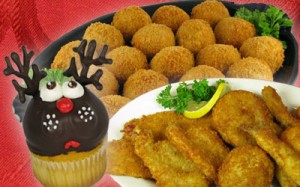 Why not give yourself your OWN Christmas present this year? Instead of all the pots, pans, bowls and messy kitchens, let Ponzios handle the heavy lifting of your holiday meals!  Whether its a full dinner package that you create, or a few of our mouth-watering take-out platters, we want to help you spend more time with your family by freeing you from your kitchens!
Crab Cakes, 7 Fish Dinners, ham, filet mignon, buffalo wings, chicken fingers, mashed potatoes, chicken nuggets, soups, salads, and on and on…

Click Here to place your order online! Its as easy as 1, 2, 3!

And if we don't have a chance to see your smiling face before, from all your friends at Ponzios, we wish you and yours a wonderful holiday season!