Its that time of year again;
family, friends and fun.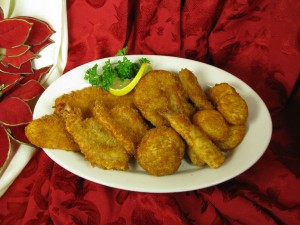 And don't forget the crab-cakes!
Once again we are offering our famous crab-cake trays for your holiday dinner. Choose from our selection of sizes and quantities online. Each tray is partially cooked, so all that is needed is a little time in your oven. Served as an appetizer or as the main course, your guests will be impressed!
Order them now at: www.ponzios.com/feast

But wait, there's more…
Our spectacular Seven Fishes Feast is back.  Spend more time with your family and let Ponzios prepare your dinner.  Our take-out meals are partially cooked so there's no need to spend the whole day in your kitchen! Available baked or fried!
For more details, visit,
www.ponzios.com/feast
New for 2015, we are now offering full holiday take-out meals as well.  Order a turkey or ham  package and easily feed your party of 8 to 12 people, with left-overs to spare.  All food is partially prepared, so all that is needed do is turn on the oven, pop-in our trays and presto, incredible holiday meal for you and yours!
For more details on full dinner take-out,
visit www.ponzios.com/holidayDinner

Happy Holidays from Ponzios